Stretch Forming Machine for Sale
Stretch Forming Machine for car bumper bending, CNC mandrel function, CPK reach beyond 1.67 with automatic mandrel function.
描述
Descriptions
This stretch forming machine is designed for automatically detects the yield strength of the material, then automatically adjusts the tension force. When we start bending, the tension force is corresponding with the position, therefore the material will never break.
CNC stretch bending machine, meanwhile Just stretch the profile to 181 degrees. The springback is small and the rebound is consistent, as well as The end radius is same as middle radius after released.
Stretch Forming Machine Features
1, Individual axis servo, as a result it control the real-time tension and position precisely;
2, Stretching can be chose to tension mode , as well as the position mode;
3, Automatically detects material yield strength , then adjusts tensile force;
4, CNC program self-learning, as a result it automatically generate die parameters;
5, The quality of the bent product is stable , thus the precision is consistent.;
6, Do not reply on skilled workers;
7, Energy saving, environmental protection, thus it solve the heating problem caused by hydraulic system
CAE Analysis for Stretch Forming Machine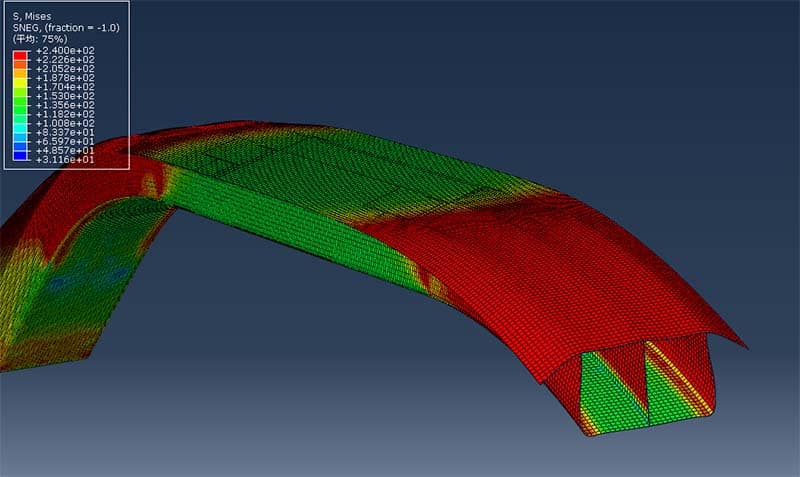 In the simulation bending process, after that we will find the best solution. For instance, we  will find out the potential problem in advance, then reduce consumption and scraps. reduce testing time.
For example, deformation tendency in bending(quality control), then how much is the pulling force or the pulling distance,the minimum radii, twisted direction,How to produce the clamp mould, Rebound modulus in mould.
In the past :
We always depend on personal feeling,so we constantly make mistakes and testing, thus the techniques can't be repeated, as a result, it makes the experienced workers really important.
Related Projects in Youtube
1. stretch bending machine-G Clef-CNC-A2D35T-6500 (train side purlin )
2. stretch bending machine-G Clef -A2D35T-High-speed rail (HSR) train C beam / purlin
3. stretch bending machine-G Clef – SFM-CNC-A2D35T-6500 (escalator cover)
4. stretch bending machine-G Clef- SFM-CNC-B2D30T-2500 (automotive car bumper)
5. Roll bending machine. G Clef Aluminum Frame Shower Room . 3 Axis CNC Profile Bending Machine
The Related Machines in Our Website
1. Car Bumper Stretch Bending Machine
2. 3D Car Roof Rail Stretch bending Machine
3. LED Lighting Profile Bending Machine
4. Bullet Train CNC Stretch bending Machine